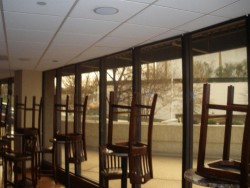 If you're the owner of a bar, restaurant, store, or any other type of business, then you want to make certain that your establishments is as inviting and appealing as possible to your prospective customers or patrons. That's why it's vital to make certain that your windows, display cases, and other commercial glass items are in tip-top shape at all times. A broken storefront window or cracked dressing room mirror is going to cost you some credibility and potential business. To get the best out of your commercial door, window, and display glass, call Jet Glass and Mirror right away. Our experienced, knowledgeable team will outfit you with the pristine commercial windows and doors you need to present your business in the best light possible. Give us a call today to learn more!
Your glass needs will depend largely on what kind of business you own and how the space is designed. Whether you own a quaint bakery or manage a high-tech sales office, you can call on the experts at Jet Glass and Mirror. We can install, repair, or replace any of the following commercial glass pieces:
Storefront windows
Storefront doors
Mirrors
Glass partitions and interior walls
Glass shelves and countertops
Glass display cases
Decorative glass fixtures
And more!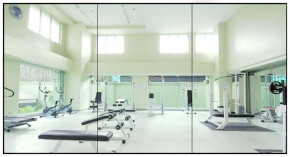 As some of the most reputable glass experts in Annapolis, Jet Glass and Mirror is available to repair broken or cracked glass while simultaneously protecting your budget and creating long-lasting solutions. Whether you need to replace a single pane in your commercial windows or install a new glass panel in the commercial door of your storefront, you can expect nothing short of exceptional precision from our team. 
If you're interested in installing commercial entrance doors, storefront windows, or even glass display cases, Jet Glass and Mirror is your top choice for exceptional looks. Whether you're building a new addition to your commercial space or completing construction on a new retail store, restaurant, office, or other commercial space, call Jet Glass and Mirror. After discussing the different options that are available for your commercial glass, we'll help you decide which choice is the best for you. For example, if you're interested in installing a large storefront window but are worried about drafts, we'll outfit you with energy-efficient glass that will keep your utility bills under control. When you work with Jet Glass and Mirror, you'll benefit from our expansive knowledge and friendly assistance.
To learn more about what it takes to replace a retail display case, storefront window, or commercial glass door, don't hesitate to contact Jet Glass and Mirror by phone or e-mail. We're a team that's committed to first-class workmanship and customer service, and we offer all of our services at extremely affordable prices. Whether you need a new storefront door or would like to add glass to your bakery display case, you can trust us for labor and materials that truly last. Make a good impression with your customers—call Jet Glass and Mirror today!