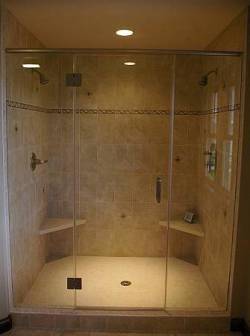 Despite the fact that shower curtains are notoriously difficult to clean and maintain, a large number of homeowners opt to use them because they're versatile, decorative, and relatively inexpensive. However, few homeowners realize that they could be saving a great deal of time and money in the long-run with the installation of glass shower doors from Jet Glass and Mirror. Available as framed or frameless shower doors, they provide you with easy cleaning and super-durable longevity. Get the sleek, elegant look for your bathroom that you've always wanted—call Jet Glass and Mirror for shower glass doors today!
Are you a homeowner in the Annapolis area? Then Jet Glass and Mirror should be your number one choice for glass shower door installation. As a team of genuinely skilled and knowledgeable glass specialists, we have what it takes to provide your bathroom with flawless shower doors in a variety of designs. We can collaborate with you to determine the best fit for your existing decor, or you can tell us your bathroom renovation plans and let us do the rest. The choice is yours!
When considering possible designs for your glass shower door, your options fall into two main categories: 
Frameless glass shower doors: Frameless or seamless shower doors are ideal for homeowners who have an eye on aesthetics. The more attractive of the two options, frameless doors can be easily cut into custom designs to fit an array of door openings and spaces. Moreover, seamless glass shower doors will show off any beautiful tiling, custom shelving, and other attractive features. However, one possible downside is that their complex design and installation requirements make for a more expensive project.
Framed glass shower doors: Framed glass shower doors are for customers who are more concerned with practical function and durability. These shower glass doors are complemented by a thick metal frame, which allows them to open outwardly on a hinge or slide horizontally along a track. The design of framed doors is also very simple, which makes for a shorter installation time and a more budget-friendly cost.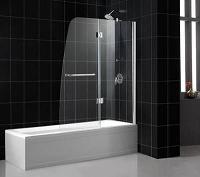 The professionals at Jet Glass and Mirror have over 30 years of experience in the trade, which means we're equipped to install both framed and frameless glass shower doors with the utmost precision and efficiency. Using only topflight materials and cutting-edge tools, we deliver truly impressive work for every single one of our customers. With our team on your side, you'll enjoy your bathtub or shower doors well into the future.
Glass bathtub and shower doors can add great aesthetics and function to any home. If you'd like to know more about our high-quality workmanship and unbeatable prices, then don't hesitate to contact us by phone or e-mail today!